Get the credit card that rewards you for being Texan. The I AM A TEXAN Rewards Visa.

Author Unknown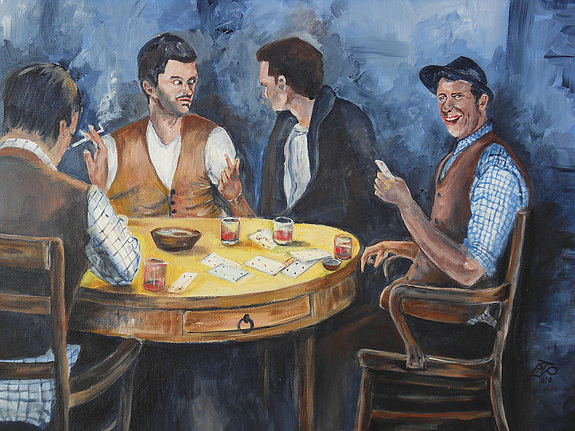 Five local buckaroos were playing poker at the Silver Spur Saloon when one of the players, named Owen, loses five hundred dollars on a single hand. It was just too much for his weak old heart to take. As he clutched at his chest, he stood up and promptly dropped dead at the table.

Showing the greatest respect for their fallen comrade, the other buckaroos finished the hand standing on their feet.

Frank, the youngest of the bunch looks around the table and asks his fellow buckaroos, "Well now, which one of us is going to tell his wife?"

No one readily volunteered for the job so they decided to draw straws for the "privilege".

Garrett, who usually ended up the loser at such contests, was true to form as he managed to draw the shortest of the straws.

His friends were more than willing to offer him their sound advice to be discreet and gentle, and to not make a bad situation any worse than it already was.

"Discreet? Why I'm the most discreet man you'll ever meet. Discretion is my middle name," bragged Garrett. "You just leave it to me."

Garrett made his way to the house of Owen Smith and knocked on the door.

Owens's wife answered and asked the young buckaroo standing at the door what he wanted.

Garrett shyly looked at the ground and scuffed at the dirt some with the toe of his boot before finally mustering up the courage to inform Owens's wife of the situation,
"Maam, your husband just lost five hundred dollars playing cards."

Owens's wife was furious, "YOU GO BACK AND TELL THAT NO GOOD SHEEP TENDER TO DROP DEAD!"

Garrett, seeing his opportunity, replied, "That's why I'm here, ma'am."

Comment section below!

What do you think about this? Comment section below!
Comments
Comments