Get the credit card that rewards you for being Texan. The I AM A TEXAN Rewards Visa.

By Carey V. Smith

Every year in December, comes a time that strikes fear into the heart of every husband and father. That is the Christmas shopping.

Men are by nature conquerors, and the shopping experience of many is the same as visiting an art gallery, museum, or sight-seeing. There is nothing to do, no sense of accomplishment, and no trophies. The stress we must endure is as high as when I first proposed marriage to my wife, only I get to live through it again every year.

Through deep analysis, I have decided that the problem is one of attitude; how you approach the situation. Instead of "Christmas shopping", I call it "Christmas hunting". Instead of gathering presents, I "hunt and kill" them. Here is how it works:

In order to hunt something, you must have a prey, something to hunt. With a normal hunting expedition, this would be deer, rabbits, ducks, geese, etc. Even when you go fishing, there is something to catch, kill, dress, and eat. At Christmas time, the prey is the GIFT. The nature of the GIFT is what determines the hunt. If, for example, you decided to go Buffalo hunting, you would make all the necessary preparations – special permits, gun, travel plans, etc. Bagging a GIFT is the same. CLICK HERE TO START YOUR CHRISTMAS HUNT

The GIFT must be something personal that only she can use. Although she may need a new kitchen appliance such as a blender, for every kitchen appliance bought, you must spend at least double to ten times that amount additional for her personal GIFT. Just as a fish is different from a duck, GIFTS come in various forms, from jewelry to clothing to knickknacks. Impracticality is the rule here.

In order to understand the nature of the prey, you must do some homework. This may involve actually looking or listening to your wife. See what earrings (who knows where they came from?) she is wearing. She will often give you hints that you are supposed to hear and understand. It may come in the form of "I wish", or "it would be nice if . . .", such as "I wish I had a watch to match my shoes", or it may be that page from the department store catalog that she wrapped your sandwich in. Look for the item circled in red. Pay attention during some of those ordeals you are made to endure with her when you hold her purse as she moves clothing on a display rack in a department store. See what catches her eye. Another source is the television shopping channel. Stop for a few more seconds and take note of what they are peddaling. This part of the process can be related to when you learn about the best fishing lakes, hunting forests, etc.

The Weapon
The biggest problem with the Christmas Hunt is the weapon. In order to "kill" your prey, the GIFT, you must use a paper or plastic weapon. A check book or credit card just don't look as ominous as a 12-gauge shotgun. There is nothing to wield. When you go fishing there is the pole, hunting has its gun, and even when you are golfing, you have a club to carry. Merchants frown on customers bringing and carrying firearms around in their stores. I have yet to find a suitable substitute. If the problem is acute, finding and carrying around a pole-like device (spear) may do. This may be in the form of a shower rod, mop handle, or umbrella. A coffee cup or beer mug may also suffice if you don't mind carrying one around a store, as this is similar to the scabbard on a sword. Some stores have large plastic candy canes filled with candy or bath oil beads that could substitute for the weapon. This may help you during your hunt for the GIFT. You don't have to purchase, just borrow it for a while until the real game has been tracked and bagged. There has yet to be invented a weapon-shaped object that would appeal to women.

CLICK HERE TO START YOUR CHRISTMAS HUNT

The License

If you can walk in the store, you have a license to hunt there. Your driver's license, or whatever identification you use to get beer and tobacco products can be used for the Christmas hunt. This will be displayed to the game warden (store clerk) when the weapon (credit card or personal check) is used to get the GIFT. The prey may then be dressed (gift wrapped) or put in a bag for protection. The receipt compares to the deer or duck stamp. Unless you have a lot of experience wrapping things, this is best left to the professionals in order to be more attractive when it is presented to your wife. Your limit is determined by the balance left in your account.

The Site

Just as you would not hunt deer in the middle of a lake, where you go depends on the prey you are hunting. Hunters and gatherers have always shared space. The same field used for getting plants has been the roaming place for pheasants. In the forest where berries are found, the deer and elk roam. In order to get the GIFT, you must go alone into the dark, scary forest called "The Mall". If this is too drastic, a "Department Store" may help ease you into the experience.

At each entrance of a Mall, there is a totem called a "kiosk". This will help narrow down the hunt. The various stores are listed by item sold, so you can proceed directly to the quarry, avoiding the quick-sand and cliffs. Each store in a mall is divided as are department stores into specialized areas. Just as some fish like deep water, and others prefer shallow, the items sold there are separated as to type and size. There is usually an extra area designated for jewelry or electronic devices and cameras. Signs on or near the ceilings can lead you to the proper area.

Rules and Regulations

Getting a personal GIFT for your wife has specific rules, like a size limit on a fish caught in a lake. Here are some that will help keep you out of trouble:
Buy her something she already has. Then she can exchange it for something she really likes and "you will never know".
Avoid sizes. If you have to get her any clothing, get a size or two too small. This translates in her mind as a compliment.
No underwear, Teddies, or pajamas. This is interpreted as a gift for you, and also conflicts with rule two above.
If it comes from a store you are comfortable in, get something else. There are no personal items for women in sporting goods, hardware, liquor, or fishing/tackle stores. The possible exception is if you are building that romantic porch swing she has bugged you about for years. In this case, have it finished before Christmas, or you will have to go back into the forest for something else.
No plants, flowers, or cards. These are for other occasions, weddings, and deaths. These are interpreted as make-do gifts, such as those things you grab at the last minute at the airport, the gas station, or the check-out stand.
The GIFT must personal and impractical. The breadmaker and blender are used by everyone in the house, not just her. It must hers and hers alone. An exception would be an automobile. Compact – yes, Mini-van – no.
Things that enhance her personal hobby or collection are sure winners. If she collects Barbie dolls, an expensive ceramic version would be an excellent trophy to give her.
Expensive candy is OK, but does not constitute the main GIFT. Put this in her Christmas stocking with the plastic candy cane you forgot to put back.
The Perfect Hunt


The best way to turn "Christmas shopping" into "Christmas hunting" would be to organize a hunting trip. Treat this the same as any other hunting expedition. Get together some buddies. Drive to the other side of the next state and camp. Drink and play poker until you all pass out. Wake up before dawn and walk at least a mile to the forest (mall). If it's not open yet, have breakfast. Malls open earlier and stay open later as Christmas day approaches. Divide into two's and hunt for the GIFT. Admire each other's kill. Unless the GIFT is a car hood ornament, it would be tacky to tie the GIFT to the hood of the car. Only something too large, such as exercise equipment, can hang out of the trunk with bungee cords. Spend the rest of the day in the sports bar or golf course.

***

I have had a lot of success with this attitude toward getting the GIFT. On one experience, I tackled the greatest of all forests, "The Mall". I arrived on Christmas Eve morning at 7 am, parked right outside the door, and I was back in the car with her GIFT in 45 minutes. I wouldn't recommend this to an amateur hunter. Once you get the hang of the "Christmas Hunt", you can attempt the "Anniversary Hunt" or the "Birthday Hunt", once you figure out which days those are.

———————

BLUEBONNET ORNAMENT (BUY 10 GET 2 FREE)
This Christmas Season, display this one-of-a-kind ornament on your tree. The Bluebonnet ornament made from paper mache'
has seeds embedded inside so you can plant the ornament after Christmas to have beautiful
Texas Bluebonnets around your house. Perfect card insert or office gift!
CLICK HERE: http://www.iamatexan.com/texas-christmas/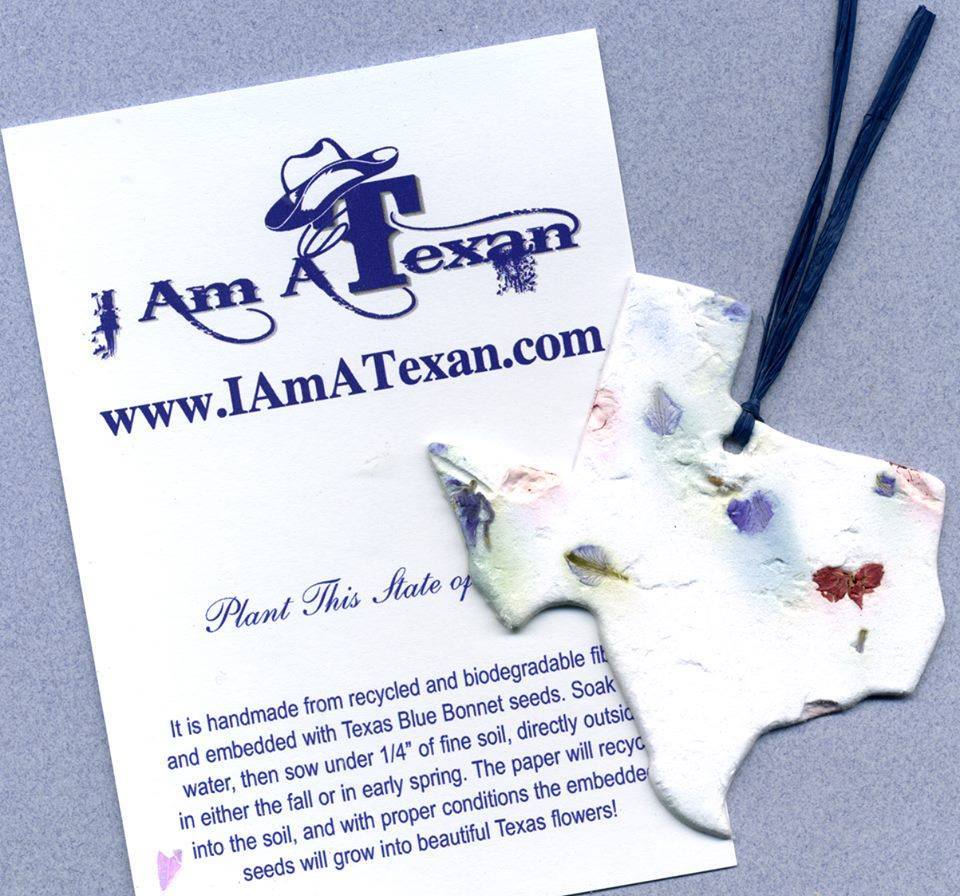 Comment section below!

What do you think about this? Comment section below!
Comments
Comments