INTRODUCING THE


I AM A TEXAN


VISA CARD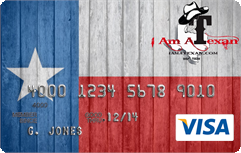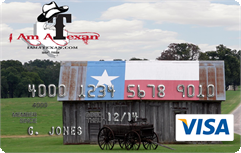 Frequently Asked Questions
Q. Is there an annual fee?
A. Please click here for the most updated pricing and fees disclosure.
Q. What is the annual percentage rate (APR) on the card? *
A. Please click here for the most updated pricing and fees disclosure.
Q. How do I apply?
A. To apply, CLICK HERE
Q. Can I apply over the phone?
A. Unfortunately, not at this time.
Q. When I apply for the card, will my transaction be secure?
A. Yes. Your application will be transmitted to the hosting bank through an encrypted security page.
Q. How does the rewards program work?
A. Simply use your card for your everyday purchases and receive 1 point for every dollar spent. You can earn Bonus Rewards points of up to 15 points per dollar when shopping at the participating retailers listed on rewards.umb.com:
To earn Bonus Rewards points shopping in-store, make sure you use your card for all your purchases. An up-to-date and complete list of participating retailers can always be located on the Bonus Rewards Web site.
To earn Bonus Rewards points for online purchases, you must access participating retailers through the Bonus Rewards Web site and use the link provided to make your purchases. If you do not use the link to shop, you will not earn Bonus Rewards points on your transactions.
Your earned points will automatically be credited to your Rewards Points account and can be found on your monthly statement.
Q. What can I redeem for with my points earned?
A. You can redeem your points for name-brand merchandise, gift cards, travel, event tickets and activities. For more information about redemptions options, please visit rewards.umb.com for more details.
Q. Do my points expire?
A. Points expire after 5 years. For more information on Program Rules, please see the Rewards Program Rules disclosure that will accompany your card.
Q. How do I redeem my points?
A. Simply go to online redemptions site at rewards.umb.com to redeem your points.
Q. If I have another question about Bonus Rewards not listed above, who can I contact?
A. Please contact customer service at 800-821-4115.
Q. Who is UMB?
A. UMB is a multi-bank, multi-billion dollar holding company headquartered in Kansas City, Missouri. They were ranked by Smart Money as "the highest-scoring traditional bank among our favorites and by Forbes as the #2 "best" bank in the U.S." As a leading card issuer with nearly 40 years of credit card experience, UMB offers a wide range of consumer and commercial Visa and private label products. For more information, visit www.umb.com
Click below if you need help with your credit score